[:en]

Combining a broad operative experience and deal flow knowhow of Barcelona and Madrid, the team of professionals from BMB Investment launch a REIT in the market that they know best, the Spanish real estate market.
The REIT will invest and optimize leased residential properties in the two top cities of Spain.
BMB Investment specializes in Private Equity value creation projects. It was founded in 2006 with the mission to provide tailor-made investment opportunities to qualified investors. BMB focuses on niche markets with substantial return potential and controlled risk, but where larger institutional investors chose not to invest due to the lack of scale/volume available.
Each Partner brings in an average of 20 years of relevant experience.
Today, BMB with offices in Berlin and Barcelona is positioned as an international renown firm with a positive tracking record since inception and key partners in different countries.
BMB Team expertise:
Deal origination
Portfolio Management
Financing
Property Optimization
Property Management
Network de agentes
AUM by BMB Investment:
EU 250 M
90 buildings in Europe
200.000 m² rental space
2.500 units
EU 17 M yearly rent income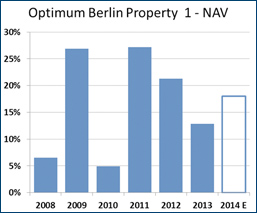 THE SOCIMI (Spanish REIT)
Taking advantage of the SOCIMI tax regime, we designed a REIT that offers risk-controlled returns. These are derived from the rent income and the market upside generated from the selective acquisition of the properties and through active management.
The strategy is to invest in buildings in Barcelona and Madrid with the following characteristics:
«Cherry picking» off market properties
Selection of unique opportunities
Mainly residential rented buildings
Controlled risk: low Capex, no development
Purchase prices near construction costs
Purchase prices about 50% below peaks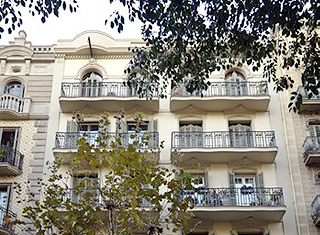 Fact Sheet:
| | |
| --- | --- |
| – Purchase price: | @ € 1,900 m² |
| – Value per property: | @ € 2-10 M |
| – Exit price: | @ € 3,650 m² |
| – Targeted REIT size: | €50-100 Million |
| – Optimization: | From day one |
| – Duration: | Max. 7 years |
| – Targeted IRR: | +15% per year |
INVESTMENT POTENTIAL
Allocating assets to residential properties, that are well managed and well rented, is traditionally a quality safeguard investment, because these investments generate returns in all market conditions given the solid underlying and the income from small, but very sustainable, tenants.
BARCELONA & MADRID FIGURES
Prices:
@ € 3,250 m² (50% below peaks)
Short term stagnation of prices
Mid term upside potential
Rent yields stabilizing
Mid term potential for rent increase
Macro-economic data:
Low growth
Expensive cost of financing
High unemployment
GDP growth expected in 2-3 yeas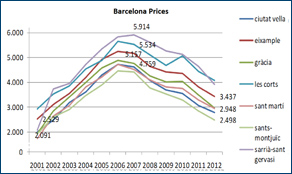 Today, we find that in Barcelona and Madrid, two world known cities, prices are near historic minimums and close to construction costs, values that shall act as a safety net.
By its euro denomination the fund implies an investment in a solid currency in a very consolidated market within the main business areas in Europe.
The possibility to own, rented and well managed, real estate assets in Barcelona is an unprecedented opportunity.
The expected IRR of +15% can be topped up if financing is eventually used, thus accelerating equity return to investors and increasing rates of return.
[:es]

Combinando su dilatada experiencia operativa y su conocimiento del deal flow de Barcelona y Madrid, el equipo de profesionales de BMB Investment lanza un cuarto fondo en el mercado que mejor conoce, el residencial en su ciudad de origen.
La SOCIMI invertirá en propiedades residenciales en alquiler en Barcelona y Madrid para venderlas por pisos.
BMB Investment es una firma especializada en proyectos patrimonialistas de Capital Riesgo. Se fundó en el 2006 con oficinas en Barcelona y en Berlín. Su objetivo es presentar oportunidades de inversión a medida para inversores cualificados. Nos enfocamos en nichos de mercado donde haya una sustancial posibilidad de rentabilidad y donde los grandes inversores institucionales prefieren no invertir debido a la escasez de volumen disponible.
Cada Socio de BMB Investment Management Partners S.L. aporta una experiencia media de 20 años en el sector.
Posicionada como una sociedad internacional reconocida con un tracking record positivo desde su inicio y con asociaciones con varios players de diferentes países.
Expertise equipo BMB:
Deal origination
Portfolio Management
Financiación
Optimización de carteras
Promoción inmobiliaria
Network de agentes
Activos bajo gestión BMB:
EU 250 M
90 edificios en europa
200.000 m² en alquiler
2.500 pisos y locales
EU 17 M de rentas anuales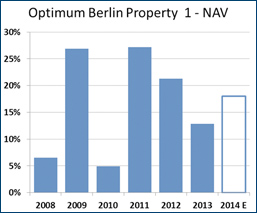 SOCIMI
El Objetivo de la SOCIMI es ofrecer una inversión de riesgo controlado con retorno absoluto derivado de los ingresos por alquileres y el upside de mercado generado por la selectiva compra y su gestión activa.
La estrategia es invertir en propiedades en Barcelona y Madrid con las siguientes características:
«Cherry picking» de propiedades fuera de mercado
Selección de oportunidades únicas en el centro
Sólo edificios residenciales en rentabilidad
Riesgo controlable: Capex mínimo, no promoción
Precios de compra cercanos a costes construcción
Precios de compra un 50% por debajo del máximo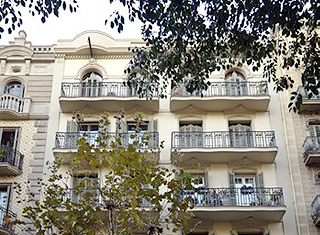 Los parámetros target de la SOCIMI son:
| | |
| --- | --- |
| – Precio compra: | @ € 1.900 m² |
| – Valor por activo: | @5€ 2-10 M |
| – TIR Objetivo: | +15% anual |
| – Precio venta: | @ € 3.650 m² |
Fact sheet de la SOCIMI:
| | |
| --- | --- |
| – Capital Esperado: | €50—100M |
| – Inversión: | Máximo 24 meses |
| – Optimización: | Desde el primer día |
| – Apalancamiento: | Max 50% LTV |
| – Vencimiento: | 7 años |
DATOS ECONÓMICOS
Precios:
@ € 3.320 m² (50% por debajo de máximos)
Market bottom
Precios de alquiler estabilizándose
Potencial incremento alquileres medio plazo
Datos macro-económicos:
Bajo crecimiento económico
Costosa financiación bancaria
Elevado desempleo
Crecimiento PIB esperado en 2-3 años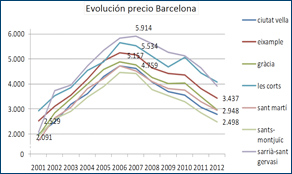 VENTAJAS DE LA INVERSIÓN
La inversión en edificios residenciales, bien alquilados y bien gestionados, se utiliza tradicionalmente como valor refugio, por la solidez del subyacente y la sostenibilidad del inquilino.
Hoy nos encontramos con precios en mínimos históricos y acercándose a costes de construcción. Valores que actúan como red de seguridad e indican un bottom muy cercano.
La posibilidad de poseer activos inmobiliarios en Barcelona y Madrid, alquilados y bien gestionados, es una oportunidad histórica.
Este fondo, por su denominación en euros, supone una inversión en una divisa sólida y en un mercado consolidado dentro de las principales áreas de negocio de Europa.
Por último, la TIR esperada del +15% no contempla financiación externa. Sin embargo, en el momento que el mercado lo permita, la cartera puede beneficiarse de una futura financiación incrementando sustancialmente la TIR obtenida.

[:]